What you will find There: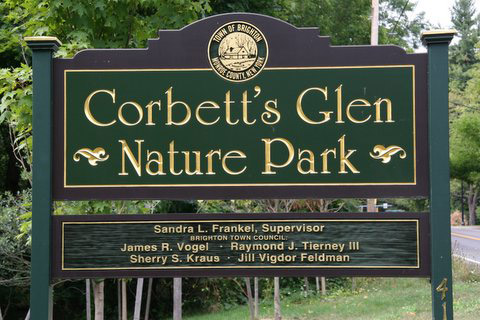 This Town of Brighton park occupies 52 acres in the area historically known as Corbett's Glen. It includes land extending up to Penfield Road. This adjacent area is sometimes refered to as Corbett's Glen North.
The park's two miles of trails allow quiet walks with a variety of scenery. From the parking at the top of Glen Road, your visit begins with a dramatic entrance through a stone tunnel. If you walk to the right you enter a loop trail that takes you along a cascading stretch of Allens Creek then around a successional meadow and cattail marsh. You are walking at the base of steep slopes forested with large oaks and other species. Before arriving back at the tunnel entrance you may turn right on a trail that climbs the forested slope and takes you beside a glacial esker, supporting some large oaks, then gently up on a winding trail through relatively young woodland to the Penfield Road entrance.
Keep in mind when you visit that the park is designed for short visits of an hour or two and does not have restrooms.
There are two private residences in the Park, visable one behind the other, as you enter from the tunnel. The one in front you will recognize from the history pages on this site as the house built by Patrick Corbett in 1896. The residents of these homes have been strong supporters of the Park since its creation.
We invite you to browse the history pages here to enhance your next visit.