In 1823 Marshfield Parsons built a gunpowder mill on Allens Creek upstream of the glen near Linden Avenue. In the early 1830's he moved his gunpowder manufacturing to a more secluded site near the Postcard Falls in the glen.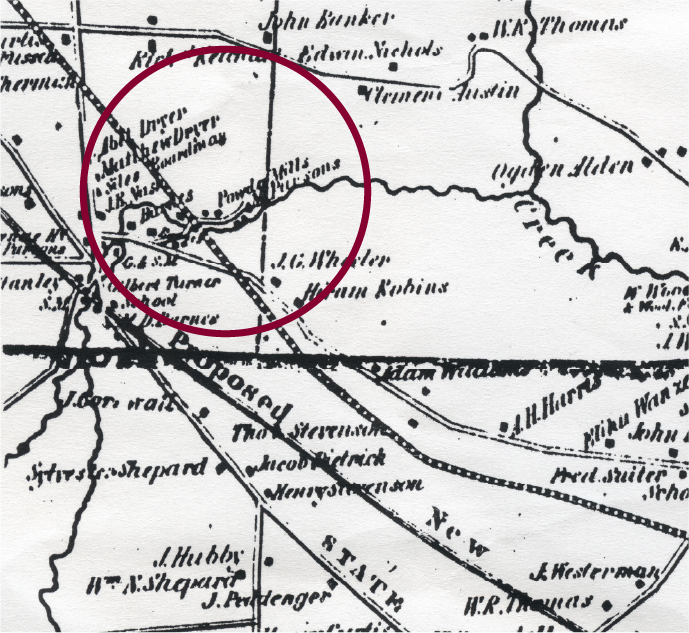 Up to 1500 hundred pounds a day were produced and sold mostly as blasting powder for the construction of railroads, canals and various quarrying and mining operations. Secluded sites with reliable water power like the Glen (Powdermill Park and Palmer's Glen were others) were sought out for this dangerous process. Explosions were not uncommon, many with loss of life.
Explosions!
Excerpts regarding the Parsons Powder Mill on Allens Creek from the Diary and Log Book of Calvin Wooster Owen, held by the Penfield Local History Room.
Saturday August 27, 1853
Parsons Powder mill at allen creek in Brighton Blew up about 6 1⁄2 P.M. One person killed. A man had just left before the explosion took place. I heard the report & could see the smoke from my house, some 2 1⁄2 miles distant. The same work Blew up some 41⁄2 years ago. I think it was in March of 1849 when one man, Archibald Ross was killed. This is the third Blow up of the same works that I have known. The first time I believe a man and boy was destroyed.
April 21st, 1854
Last night about 9 oclock the Powder works at Allen Creek some 2 miles west of Penfield exploded for the 5th time to my knowledge. I have just returned from the ruins, the two grinding mills is what blowed up & sit fIre to an old building in which was stored some 2 or 3 thousand emty powder kegs, all burned. No person hurt, as none was present at the time. It is kept running nights alone, when they are grinding the powder. I was told that about 1⁄2 ton of powder was destroyed this time. 9 months ago it blew up.
Wensday Jan' 3rd, 1855
Fair & thawing pleasant as spring day.
Explosion of the powder mill 2 miles west of me on Allen Creek own'd by Burbank. Yes, it was one of the grinding mills, no lives lost. The workman had just step out a moment before. It happened about 1⁄4 before 9 A.M. I see the smoke rise immediately after hearing the report it is said that some 800 pounds of powder was burned. On hearing the report my first thought was that it was a heavy piece of cannon discharged.
Tuesday May 8th, 1855
It snowed some last evening, & this morning it is raining fast, wind east, cool. Am painting some on my house, & making other repairs on my house.
P.M. It began snowing about 8 this morning and continued to fall fast till about one oclock this afternoon when it turned to rain again & continu'd to snow & rain 24 hours quite steadily.
About 5 this afternoon the Powder mill at Allen creek & in sight of here Exploded Killing 5 men employed therein. The same works blew up on the 3rd of last January, none was hurt at that time. This is the 4th time these mills have blown up within 6 years, and about 8 times since 1824. Arch' Ross was killed there 6 years ago this spring.
Wensday September 12th 1855
The Powder Mill or works on Allen Creek in Brighton which is in sight of Penfield Blew up this afternoon about 6 oclock. There was four sharp explosions, caused by the several shops or works. It had not been rebuilt long since the blow up on the 7th May last; This time there were no workmen killed, for the reason that they have left off work. This is, I think, the 7th time that it has blew up since my knowledge it, and is believed is the sixth time within 7 years.